Guernsey has returned from the British Schools Judo Championships with a bronze medal and some valuable competition experience.
Five members of the Guernsey Judo Club travelled to Sheffield for the competition accompanied by coach Eddie Mann.
First on the mat was Eqisha Parry from Blanchelande College in the Years 8/9 -52kg category. Eqisha received a first-round bye then scored a win in the next round. This put her into the semi-final against a tough opponent from Northern Ireland. Unfortunately, Eqisha couldn't get past her and was thrown for the loss, meaning she would compete for Bronze. In the Bronze medal contest, Eqisha immediately got stuck in, but with less of an attack than her opponent, received a shido (penalty). However, not to long after, her opponent received back-to-back penalties, putting Eqisha up on the score and meaning if her opponent got one more she would be disqualified. Eqisha took her grip and put in some strong attacks, forcing her opponent to make a mistake, receive a third shido and thus be disqualified, meaning Eqisha winning the bronze medal.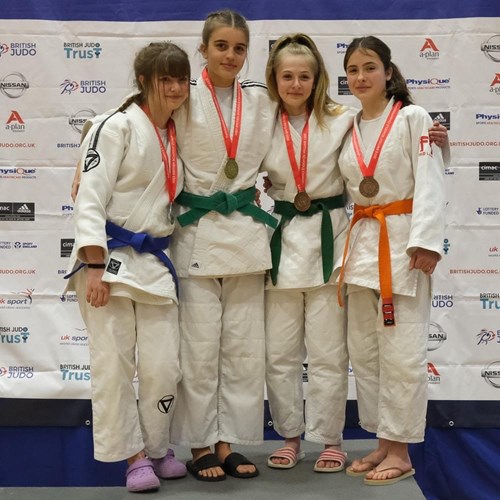 Next on the mat was Jodie Sharman from St Sampson's High School in the Years 8/9 -63kg category. This was Jodie's first experience of competition in the U.K and having received a first-round bye, she started off well in what was her first contest and was unlucky to be thrown onto her back for the loss. She then entered the Repechage but again came up against a more experienced fighter who countered her technique and threw her onto her back for a second loss. Jodie gained some valuable experience to take her into her next competition.
The third person on the mat was Toby Bisson (Elizabeth College) in the Years 10/11 -50kgs category. Toby's group was full of GB internationals and having lost his first-round contest, came off the mat determined to do better in the Repechage. He went into this next contest strongly winning to put him in the bronze medal contest. Toby's bronze medal contest was the hardest of the day and he came very close on several occasions to making his opponent submit with an arm lock. Unfortunately, he went a score down, before getting thrown cleanly for the loss.
After a long wait, Grace Bourgaize (Guernsey Grammar School) in the Years 10/11 +70kg was finally on the mat. In the first round, she started off strongly but went a shido down for stepping out of the area before getting thrown cleanly onto her back. This put her in the Repechage, but her next opponent had to pull out due to injury resulting in Grace automatically getting the win and moving onto the next round. It did however mean a much longer than anticipated wait until her next contest. Her opponent was much taller than Grace and used this size difference to her advantage, holding her off, eventually throwing her cleanly onto the mat.
Alexander Stewart (Elizabeth College) was competing in the Years 12/13 -66kg category, which unfortunately for Alexander was one of the largest groups of the whole competition with 22 entrants. He started well progressing to the second round. His second-round opponent took him by surprise with a drop throw meaning he would have to continue his day in the Repechage en route to a potential bronze. His next opponent was from the Isle of Man and although Alexander was able to put in some attacks, the four kilos he was giving up in weight was proven when his opponent could pull him onto himself, throw him over his head in a circular motion landing Alexander flat on his back and thus eliminating him from the competition.
Guernsey Judo Club Chair and Coach Eddie Mann was full of praise for the team.
'All five of them should be extremely happy with their performances. They did the club, but most importantly their schools proud and have worked hard over the past few months with their preparation for the competition,' said Eddie.
'It was fantastic to hear Eqisha's name and Blanchlande be called out as she stepped onto the podium to collect her bronze medal.
'I am a very proud coach!'