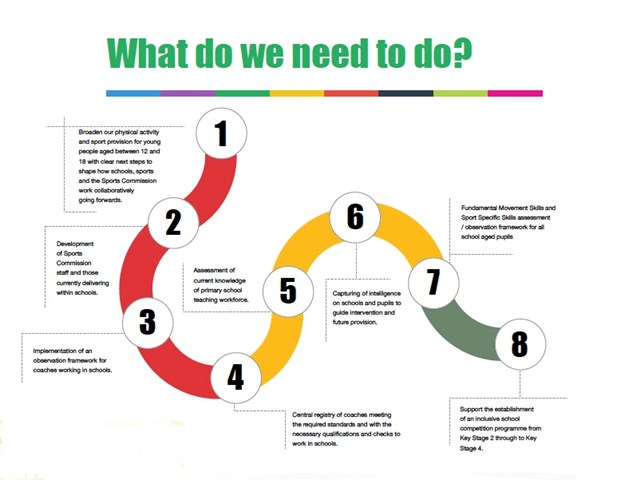 The Guernsey Sports Commission published its ambitious 5-Year Action Plan earlier this year and is making progress on all 8 workstreams.
Our Action plan supports the aims and objectives of the Committee for Education, Sport & Culture's Active 8 Plan for Sport which is due for debate in August.
Funding unlocked through the approval of the CfESC Active-8 Plan for Sport will enable to us to achieve our vision that "everyone in Guernsey should have the opportunity and support to participate and compete, and fulfil their potential no matter what their background, age, or level of ability in a safe and supportive environment."
We can only do this by working in partnership with the States of Guernsey, our member sports and the wider community.
The Guernsey Sports Commission is delighted to have secured further ongoing funding for our successful PE in Schools Partnership. The ring-fencing of a total of £1m from the Committee for Education, Sport & Culture over the next five years ensures our well-regarded work in primary schools can continue.
The GSC has seven PE and Sport Development officers spread across all of our primary schools all of them doing some great work.
In advance of the States Debate, we asked Kim Hutchison, Headteacher, La Mare de Carteret Primary School for her personal perspective on why the work we do is important to our schools:
Kim Hutchison, Headteacher, La Mare de Carteret Primary School
"As a school we strongly believe in providing the children with as many opportunities as possible to be both physically and mentally healthy.
Ollie Dowding, one of the GSC's Sport Development Officers worked with us for 18 months to deliver a range of outcomes for the school, teachers and our children.
Thanks to Ollie our teachers have further developed their confidence and competence to deliver PE as well as accessing up to date research.
Children who might otherwise find engaging with PE extremely challenging are receiving greater support.
We received the AfPE Quality Mark which validated the approach the school has taken and how we are making the most of our support.
Ollie has also benefitted from the opportunity to learn from other professionals working in school.
We have definitely seen improved communication between sports, school and staff and we have seen greater purpose to lessons delivered by sports development officers."
With the progress made over the past 18 months the school has now identified an increased focus for the support from the Commission based around the Pod provision that supports young people with social, emotional mental health needs. This will see Ollie swap schools with Marc Boyd who will specialise in supporting children with these needs not only in school but help to transition them into local sports provisions outside of school. 
Ollie is going to take his learning from being involved with La Mare's successful AfPE submission to Hautes Capelles who will be looking to undertake the award over the next term. Ollie will also be mentoring a junior member of our team.