The autumnal weather is finally with us and so it's time to put away the stand-up paddle boards, buoyancy aids and wetsuits and reflect on our first year running our Holdfast Water Skills Academy.
The Sports Commission's new summer programme included water safety sessions, learn to SUP courses and other water-based activities for children and young people.
Alongside the summer activities, our Outdoor & Adventure Sports Development Officer, Alan 'AJ' Jenner, has continued to offer sessions to clients referred through Bailiwick Social Prescribing as well as supporting young people on alternative timetables or those who want to improve their water confidence.
'We didn't always have great weather to run our scheduled SUP sessions over the summer, but we adapted to the conditions and offered alternative water safety sessions wherever possible, said AJ.
'It was fantastic to see some of our students successfully complete the full Born to Ride SUP course, but it was also heartening to see some of the children really grow in confidence as they learnt water rescue skills and how to keep themselves safe when enjoying the waters around our island.'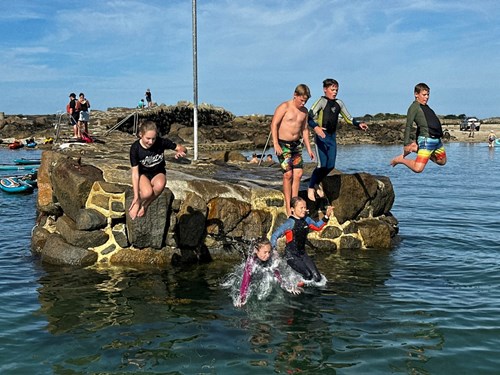 The Commission launched the Holdfast Academy as part of a drive to make stand up paddle boarding and other water-based activities more accessible to the community.
'We try to keep our prices as low as possible and keep our group sizes small so that I can spend time with each of the participants ensuring they get the basic techniques right before moving on to more complex skills,' said AJ.
'The main purpose though is to have fun on the water and instil a real appreciation of how to enjoy the water safely, to check the tides and conditions before going out and to always have the right equipment.
'The island did experience quite a few water safety incidents this year which just shows how important it is that we make sure all our children and young people know about tides and weather conditions and learn what things to consider before they go in or out on the water.'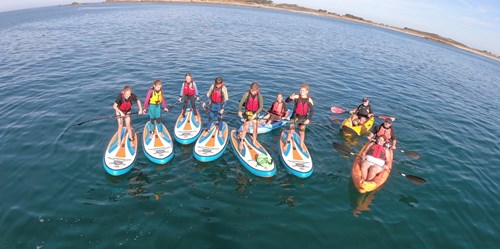 Over the summer holidays the Sports Commission ran 37 group sessions for children and young people between the ages of 8 and 16. Depending on the weather these were either two-hour learn to SUP lessons or water skills sessions based around improving water confidence and learning self-rescue and basic third-party rescue techniques. A big part of all sessions was the provision of knowledge and skills based around risk, risk assessment and preventing incidents.
'We target these skills having meticulously researched local data and cover subjects such as tides, wind, currents, safety, lifeguards, rip currents, open water risks, rock and pier jumping and wildlife interaction,' said AJ.
'In addition, we also cover what they should do in an emergency. Not only are these skills vital for islanders, but they are also transferable when families travel abroad.'
Over 100 children in total joined in the activities over the holidays.
'We are also extremely thankful to Go Guernsey who donated a number of upcycled wetsuits which meant children without their own were able to borrow or hire one for sessions.'
The Commission is now planning for next season and AJ is hoping to build on the success of this year's Hold Fast Academy and continue to get more children and young people out on the water safely and successfully.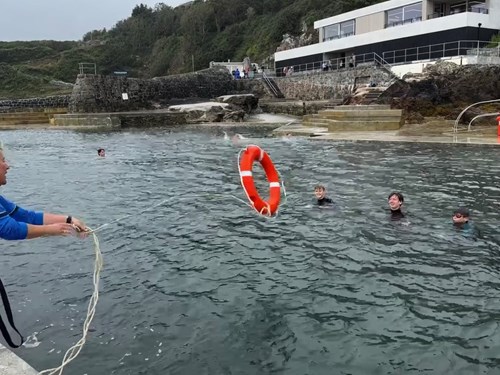 For further information about our Outdoor & Adventure Sports Programme visit https://guernseysports.com/programmes/outdoor-adventure-sports/