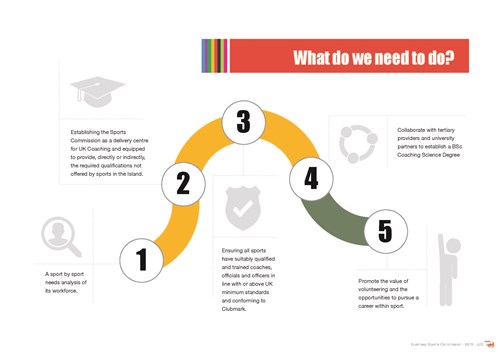 The Guernsey Sports Commission published its ambitious 5-Year Action Plan earlier this year and is making progress on all 8 workstreams.
Our Action plan supports the aims and objectives of the Committee for Education, Sport & Culture's Active 8 Plan for Sport which is due for the debate in August.
Funding unlocked through the approval of the CfESC Active-8 Plan for Sport will enable to us to achieve our vision that "everyone in Guernsey should have the opportunity and support to participate and compete, and fulfil their potential no matter what their background, age, or level of ability in a safe and supportive environment."
We can only do this by working in partnership with the States of Guernsey, our member sports and the wider community.
In advance of the States Debate, we asked some islanders involved in sport for their personal perspective on elements of the Guernsey Sports Commission's Action Plan and why the work we do is important to them:
Workforce Development – Gill Queripel, President, Guernsey Netball
"We are currently working on a plan for the future of Guernsey netball with the Guernsey Sports Commission. Everything in the GSC's 8-point action plan will directly benefit netball but, in my opinion, the GSC's 'workforce development' stream has the potential to be the biggest gamechanger.
Firstly, I believe that the GSC can be the catalyst to getting more coaches qualified and this will have a hugely positive impact on the twin pillars of participation and performance.
Secondly, I believe that through mentoring and connections, the GSC can assist the GNA in enhancing the administration of the GNA itself to make it completely fit-for-purpose.
Thirdly, and perhaps most importantly, I believe might only be with the GSC's hands-on involvement that what sometimes appears to be an insurmountable gulf between the aspiration and reality of having a full-time Netball Development Officer will be bridged in the near future.
Without the GSC, improvement in these areas is far less likely and the positive impact on islanders, particularly teenage girls who are more likely to quit sport than the boys, will be greatly reduced.
The island's biggest participation female team sport values and needs the Guernsey Sports Commission."